CARRYING A DANGEROUS WEAPON WHILE UNDER INFLUENCE OF ALCOHOL OR DRUGS UNLAWFUL
What Is The Utah Code For Carrying A Dangerous Weapon Under The Influence?
Carrying a dangerous weapon under the influence of drugs or alcohol is a crime in Utah. You can find the full code provision at Utah Code 76-10-528. In the 2022-23 Utah Legislature it was recently amended to carve out possessing a dangerous firearm when you have marijuana or prescription drugs in your system, so long as you are taking them as prescribed.
I Have A Marijuana Card In Utah? Is It Still Illegal For Me To Carry?
The new 2023 law amended the carrying under the influence statue by clarifying that carrying a firearm or dangerous weapon while legal taking prescription drugs or marijuana is not a crime. You must be taking your prescriptions or marijuana as prescribed by your physician.
What Is Considered A Dangerous Weapon In Utah? Just a Gun?
A dangerous weapons is defined at Utah Code 76-10-501 to mean more than just a knife or gun.
"Dangerous weapon" means:
(i) a firearm; or
(ii) an object that in the manner of its use or intended use is capable of causing death or serious bodily injury.
The following factors are used in determining whether any object, other than a firearm, is a dangerous weapon:
(i) the location and circumstances in which the object was used or possessed;
(ii) the primary purpose for which the object was made;
(iii) the character of the wound, if any, produced by the object's unlawful use;
(iv) the manner in which the object was unlawfully used;
(v) whether the manner in which the object is used or possessed constitutes a potential imminent threat to public safety; and
(vi) the lawful purposes for which the object may be used.
(c) "Dangerous weapon" does not include an explosive, chemical, or incendiary device as defined by Section 76-10-306.
As you can see, nearly anything can be found to be a dangerous weapon under Utah law. Surely a baseball bat when used as an offensive weapon would be considered a dangerous weapon. Same goes for a kitchen knife when used offensively, but a kitchen knife is just fine when used at the table.
Self Defense Exception to Carrying While Impaired.
Built right into the statute always allows you to defend yourself as allowed under Utah law. Even though you may be intoxicated, you still retain the right to defend yourself, other and property.
Another exception is where you are intoxicated carrying a dangerous weapons but:
(1). You are in your own home, or (2). The firearm is encased and not in a reachable place by the impaired person.
Common Probation Terms. Carrying a dangerous weapon under the influence of drugs or alcohol is Class B Misdemeanor. Common probation terms involve:
Fine. The max fine is $1,000 for non-DUI cases misdemeanor convictions.
Court Probation. Generally you will be placed on the lowest level of criminal probation, called court probation, bench probation or informal probation. You could be placed on supervised private party probation. Adult Probation & Parole is highly unlikely. The standard is 12 months of court probation.
Forfeiture of Firearm. Often your firearm or dangerous weapon involved in the arrest will be lost to the state. Sometimes you can ask the prosecuting attorney to agree to its return, but not likely. All prosecuting attorneys have criminal forfeiture rights by statute which allow them to seize all instruments of criminality.  See Utah Code 24-4-1. The Utah Forfeiture and Disposition of Property Act.
Gun Safety Course. Part of your probation could be a thinking error's course or a gun safety course.
Max Jail. Prison is not possible on any Misdemeanor in Utah unless coupled with a felony conviction. Misdemeanor Bs have up to 6 months in the county jail, but jail on a first time offense is unlikely.
Class B Misdemeanor. Carrying under the influence is a Class B Misdemeanor. From highest to lowest in Misdemeanor severity, it goes from Class A, Class B, Class C to a non-crime Infraction. Prisons is never possible on purely misdemeanor convictions, only county jail time.
Class A. Up to 1 year in jail.
Class B. Up to 6 months in jail.
Class C. UP to 90 days in jail.
Enhanchable Offense? No. Many types of criminal offenses are enhanceable, but carrying a firearm under the influence is not. Common enhanceable offenses are DUIs, domestic violence, retail theft and drug charges.
Expungement Of Carrying A Dangerous Weapon Under The Influence Of Drugs Or Alcohol.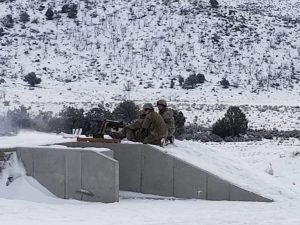 Carrying under the influence is a Class B Misdemeanor with a 4 year plus sentence waiting period to expunge. Upon the case closing successfully, your 4 year waiting period starts. If you run a 402 sentence reduction to a Class C, then the waiting period is 3 years.
Example. You are convicted of Carrying a Dangerous Weapon while intoxicated at a Provo bar—A Class B Misdemeanor. After your 12 month probation closes your attorney moves the court to reduce the grade from a Class B to a Class C Carrying a Dangerous Weapon whiled intoxicated. This lowers the waiting period from 4 years to 3 years before you can start your expungement.
402 Sentence Reductions of Carrying Under the Influence.
All carrying under the influence are subject to a sentence reduction Utah Code 76-3-402. 402 Sentence reductions are great and reduce a criminal conviction by one or two grades. A two grade 402 reduction requires prosecutor and judge consent. A one step 402 reduction does not require prosecutor consent. 402 motions take about one month to file, finish and have the judge sign the order of reduction.  If you fail to successfully complete all probationary terms and timely your chances of the judge granting a 402 sentence reduction motion are lower.
CALL/TEXT UTAH WEAPONS / FIREARMS DEFENSE ATTORNEY JAKE GUNTER (801) 373-6345. FREE CONSULT.
Felony Discharge of a Firearm – Utah Code 76-10-508.1
Discharge of Firearm from a Vehicle – Utah Code 76-10-508
Possession of a Dangerous Weapon at an Airport – Utah Code 76-10-529
Possession of a Dangerous Weapon by a Minor – Utah Code 76-10-509
Altering Markings on a Pistol or Revolver – Utah Code 76-10-522
Carrying a Concealed Firearm – Utah Code 76-10-504
Carrying a Loaded Firearm in a Vehicle – Utah Code 76-10-505
Carrying a Loaded Firearm on the Street – Utah Code 76-10-505
Possession of a Deadly Weapon with Criminal Intent – Utah Code 76-10-507
Providing Weapons to a Minor – Utah Code 76-10-509.5
Sale of Firearms to a Juvenile – Utah Code 76-10-509.9
Unlawful Marking of a Pistol or Revolver – Utah Code 76-10-521
Possession of a Weapon on School Property – Utah Code 76-10-505.5
Possession of Firearms by Restricted Persons – Utah Code 76-10-503
Providing Firearms to a Violent Minor – Utah Code 76-10-509.6
Using a Dangerous Weapon – Utah Code 76-10-506