ALL ALCOHOL CRIMES IN UTAH
CALL/TXT UTAH ALCOHOL CRIMES ATTORNEY JAKE GUNTER (801) 373-6345
MOST COMMON ALCOHOL CRIMES IN UTAH
Here is a list of the most common alcohol related crimes in Utah and any collateral consequences.
Utah Code 41-6a-505. EXTREME DUI.
Utah Code 41-6a-505(1) and (5) outline the mandatory minimums for 1st and 2nd Extreme DUIs. Extreme DUIs are new and you have:
1.  BAC .16.  A .16 or higher, had a blood, or
2.  BAC+Drugs. Breath alcohol level ("BAC") of .05 or higher in addition to any measurable controlled substance, or
3.  2+Drugs. A combination of two or more controlled substances in the individual's body that were not recommended in accordance with Title 26B, Chapter 4, Part 2, Cannabinoid Research and Medical Cannabis, or prescribed.
Utah Code 41-6a-502.5 IMPAIRED DRIVING.
Consider Impaired Driving the little sister of a Section 502 regular DUI. The big deal with Impaired Driving is that you don't lose you license (for as long) and you don't have mandatory minimums jail terms that DUIs have. You cannot get an Impaired Driving plea with any of the following factors: (1). You have a prior DUI defined conviction, or (2). You hold a commercial driver's license, or (3). Your blood alcohol was higher than .16. (4). You had two plus illegal drugs in your system, or (5). You had a .05 BAC and had any other measurable controlled substance in your system.
NOT A DROP DRIVER.
After DUI like convictions make that person a "Not a Drop" driver. Meaning that they cannot driver with any alcohol in their system. The normal .05 BAC does not apply to them, it is zero tolerance. Not a Drop applies to motor vehicles, boats, ATVs, motorcycles and most street legal machines.
Utah Code 53-3-231 UNDER 21 MINOR DUIs.
Minors under 21 years old can't operate any motor vehicle, boat, motorcycle or other street legal machine with any alcohol in their system. The normal .05 BAC doesn't apply to minors under 21 years old. You also lose your license for a nasty amount of time by the driver's license for under 21 DUIs.
Utah Code 76-10-538. CARRYING A DANGEROUS WEAPON WHILE UNDER INFLUENCE OF ALCOHOL OR DRUGS UNLAWFUL.
You can't be drunk or under the influence and carry a gun. It is not a defense that you are deer hunting at the time or have a valid concealed carry permit. It is a Class B Misdemeanor.
UTAH CODE 76-9-701 INTOXICATION.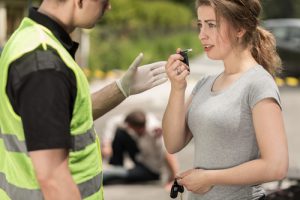 The Intoxication statute is written very broadly. Many situations may qualify for being intoxicated. This is where a persuasive attorney can make the difference. "A person is guilty of intoxication if the person is under the influence of alcohol, a controlled substance, or any substance having the property of releasing toxic vapors, to a degree that the person may endanger the person or another, in a public place or in a private place where the person unreasonably disturbs other persons."
Utah Code 76-9-702.3. PUBLIC URINATION.
Defecating or urinating in public by itself is not illegal, but if it is likely to cause alarm or afront to others, then it is illegal.
"A person is guilty of public urination if the person urinates or defecates: (a). In a public place, other than a public rest room; and (b). Under circumstances which the person should know will likely cause affront or alarm to another."
Utah Code 41-6a-526. OPEN CONTAINER IN CAR. BOATS ARE OK.
Open containers of alcohol are OK in boats, but not in motor vehicles. Limousines and RVs have exceptions also. Open containers are a Class C Misdemeanor.
Utah Code 32B-4-403 FURNISHING ALCOHOL TO A MINOR.
It is a Class B Misdemeanor to furnish alcohol to a minor under 21 years old if done negligently or recklessly. It is a Class A Misdemeanor if you do it intentionally or knowingly. The bail schedule is $690.
Utah Code 32B-4-409 MINOR IN POSSESSION OF ALCOHOL.
It is unlawful for a minor under 21 years old to purchase, possess or consume alcohol, except for religious purposes. First offense you lose your license for one year. Second offense you lose your license for two years. For any offense, the sentencing judge can decrease your licensing sanction if you successfully complete a substance abuse course. Minors in possessions, like DUIs, are enhanceable offenses.
Utah Code 32B-4-409(1)(A) UNLAWFUL FOR MINOR TO PURCHASE AN ALCOHOLIC PRODUCT MB Y $590 Minor offense – Under 21.
Using a fake ID to purchase alcohol will get you charged with a crime. Further, fake IDs can also get you in trouble with the Utah Driver's License Division.
Utah Code 32B-4-409(1)(C) UNLAWFUL FOR MINOR TO SOLICIT PERSON TO PURCHASE ALCOHOL.
Asking an adult to purchase alcohol for your will get you charged and the adult charged with furnishing alcohol to a minor. It is a Misdemeanor B and carries a $590 fine.
Utah Code 32B-4-410 UNLAWFUL ADMIT/ATTEMPT TO GAIN ADMIT BY MINOR IN BAR/TAVERN.
Trying to use Fake IDs to get into bars will get you a Class B Misdemeanor charge.
Utah Code 32B-4-405. INTERDICTED PEOPLE.
Someone is an "Interdicted Person" if the law restricts alcohol sales to them. Specially interdiction means: "a person to whom the sale, offer for sale, or furnishing of an alcoholic product is prohibited by law or a court order." Minors under 21 years are prohibited by law from purchasing alcohol and some people are deemed interdicted by court order.
Utah Code 32B-15-1. DRAMSHOP ACT FOR MONEY DAMAGES (NOT CRIMINAL).
Utah's Dram Shop Act is where you can sue the bar or alcohol serving establishment for overserving a patron and that patron hurts someone.
Utah Code 32B-11-201 MANUFACTURING ALCOHOL WITHOUT A LICENSE MB Y $690.
It is a Class B Misdemeanor to manufacture and sell alcohol to the public without a license.
Utah Code 77-40a-101 EXPUNGEMENT OF ALCOHOL CRIMES.
Utah is very liberal with expunging criminal convictions. Utah's Expungement Act is found at 77-40a-101 and allows for multiple expungements. No Utah alcohol crime has an absolute statutory bar to expungement.
Utah Code 76-10-2301. CONTRIBUTING TO THE DELINQUENCY OF A MINOR.
Not necessary by itself an alcohol crime, but often charged in association with furnishing alcohol to a minor. Contributing is a Class B Misdemeanor and is sounds really bad.
BELOW IS A NEARLY COMPLETE LIST OF ALL MISDEMEANOR B OR BELOW ALCOHOL OFFENSE
32B-1-206 UNLAWFUL ALCOHOL ADVERTISING MB Y $690.
32B-1-206(2)(B) ADVERTISE AN ALCOHOLIC PRODUCT ON A BILLBOARD MB Y $690.
32B-13-301(8) SELL, DISTRIBUTE BEER TO RETAILER FOR SALES OUTSIDE AREA MB $690.
32B-4-401(1) SALE, FURNISH ALCOHOL BY RETAIL LICENSEE,
32B-4-401(6) UNLAWFUL SELL, SHIP, TRANSPORT OF BEER FROM OUT-OF-STATE MB Y $690
32B-4-401(7) UNLAWFUL SELL, SHIP, TRANSPORT OF LIQUOR FROM OUT-OF-STATE MB Y $690
32B-4-402 UNAUTHORIZED SALE, OFFER FOR SALE, OR FURNISHING MB Y $690
32B-4-406(1)(A) SUPPLY BEER TO GENERAL PUBLIC CONTAINER EXCEEDS 2 LITERS MB Y $490
32B-4-406(1)(B) PURCHASE, POSSESS BEER IN CONTAINER THAT EXCEEDS TWO LITERS MB
32B-4-406(3)(A) SUPPLY HEAVY BEER IN CONTAINER THAT EXCEEDS 2 LITERS MB
32B-4-406(3)(B) PURCHASE, POSSESS HEAVY BEER CONTAINER EXCEEDS TWO LITERS MB
32B-4-409(1)(F) MEASURABLE BLOOD, BREATH, OR URINE ALC CONCENTRATION – MINOR MB Y $590
32B-4-409(2)(A) MISREPRESENT MINOR'S AGE (BY MINOR) TO OBTAIN ALCOHOL MB Y $380 FAKE ID
32B-4-409(2)(B) MISREPRESENT MINOR'S AGE (BY ANOTHER) TO OBTAIN ALCOHOL MB Y $380
32B-4-409(3) MINOR IN POSSESSION OF ALCOHOL IN LIMOUSINE OR CHARTERED BUS MB Y $590
32B-4-411(2)(A)(I) UNLAWFUL USE OF PROOF OF AGE- FIRST OFFENSE MB Y $690
32B-4-412 UNLAWFUL PURCHASE BY INTOXICATED PERSON MB Y $690
32B-4-413 UNLAWFUL PURCHASE BY INTERDICTED PERSON MB Y $690
32B-4-415 UNLAWFUL BRINGING ONTO PREMISES FOR CONSUMPTION MB Y $690
32B-4-416 PERMITTING MINOR TO CONSUME ALCOHOL ON CHARTERED BUS OR LIMO IN Y $340
32B-4-416(1) PERMITTING MINOR TO CONSUME ALCOHOL ON CHARTERED BUS OR LIMO IN Y $340
32B-4-417 POSSESS, STORE, OR ALLOW CONSUMPTION OF LIQUOR ON PREMISES MB Y $690
32B-4-418 UNLAWFUL STORAGE OF LIQUOR ON PREMISES MB Y $690
32B-4-419 UNLAWFUL PERMITTING OF INTOXICATION MC Y $350
32B-4-421 CONSUME LIQUOR IN A PUBLIC PLACE BUILDING,PARK, OR STADIUM MC Y $350
32B-4-422 UNLAWFUL DISPENSING MC Y $350
32B-4-422(2) UNLAWFUL DISPENSING MC Y $350
32B-4-422(2)(A) SUPPLY PRIMARY SPIRITUOUS LIQUOR ON PREMISES MC Y $350
32B-4-422(2)(B) SUPPLY MORE THAN 2.5 OZ OF SPIRITUOUS LIQUOR PER BEVERAGE MC Y $350
32B-4-422(2)(C) ALLOW PERSON MORE THAN 2.5 OZ OF SPIRITUOUS LIQUOR AT A TIME MC Y $350
32B-4-422(2)(D)(I) ALLOW PERSON TO HAVE MORE THAN TWO SPIRITUOUS LIQUOR AT TIME MC Y $350
32B-4-422(2)(D)(II) ALLOW PERSONS ON PREMISES TO HAVE MORE THAN 1 SPIRIT LIQUOR MC Y $350
32B-4-424 POWDERED ALCOHOL VIOLATION MB Y $690
32B-4-424(2) USE/OFFER/PURCHASE/FURNISH POWDERED ALCOHOL MB Y $690
32B-4-424(3) RETAIL LICENSE HOLDER USING POWDERED ALCOHOL AS PRODUCT MB Y $690
32B-4-501 OPERATING WITHOUT A LICENSE OR PERMIT MB Y $690
32B-4-501(1) OPERATE W/O LICENSE/PERMIT TO SELL/CONSUME ALCOHOL ON PREMISE MB Y $690
32B-4-501(2) FAILURE TO OBTAIN PUBLIC EVENT PERMIT FOR ALCOHOL SALES MB Y $690
32B-4-501(3) FAILURE TO OBTAIN PRIVATE EVENT PERMIT FOR ALCOHOL SALES MB Y $690
32B-4-501(4) OPERATE BUSINESS WITHOUT FIRST OBTAINING A LICENSE MB Y $690
32B-4-501(5) FAIL TO OBTAIN PUBLIC SERVICE PERMIT FOR PUBLIC CONVEYANCE MB Y $690
32B-4-502 UNLAWFUL TO POSSESS, STORE LIQUOR PURSUANT TO FEDERAL STAMP MB Y $690
32B-4-503(2)(A) TAMPERING WITH A DABC RECORD MB Y $690
32B-4-505(1) REFUSE OR FAIL TO ADMIT TO PREMISES OR OBSTRUCT THE ENTRY MB Y $690
32B-4-602 UNLAW TRANSPORTATION OF ALCOHOL MB Y $690
32B-5-201(1)(A) FAILURE TO OBTAIN RETAIL LICENSE FOR SELL/CONSUMPTION ON PREMISES MB Y $350
32B-5-308(1)(A) CONSUMING ALCOHOL ON DUTY IN Y $110
32B-6-706(7)(B)(I) ALCOHOL OPERATIONAL RESTRICTIONS (BEER) MB Y $690
32B-7-202(2)(B) UNLAWFUL PURCHASE-OFF PREMISE BEER RETAILER FROM BEER WHOLESALER MB Y $690
72-10-501 FLYING UNDER INFLUENCE OF ALCOHOL AND/OR DRUGS MB Y $1,470
76-10-1506(1)(B) ON MASS TRANSIT WHILE UNDER THE INFLUENCE OF ALCOHOL/DRUGS MC N $350